Filter by Category
Science, Nature & History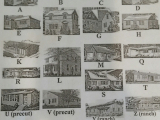 703F18 The Houses Hanford Built - Richland's Alphabet Houses
with Richard Nordgren

Nov 14, 2018 at 6 pm
Explore Richland's unique architectural past with local historian Richard Nordgren. Richard will discuss the social history that formed the City of Richland during the government ownership era and share interesting information about the different types of housing and when, where and why they were built. Learn about the Gold Coast, the 'Miracle Mile,' the house where the creator of Dupus Boomer lived, and more. In the spring session, Richard will lead three distinct walking tours of the neighborhoods that you don't want to miss. This class is perfect as a tour preview or for those unable to attend a walking tour.
Richard Nordgren has been instrumental in the research and documentation of the Richland Alphabet Houses for both the City of Richland and the application to the National Historic Register.
Will run
704F18 Hiking Education
with Chuck Wierman

Nov 29, 2018 at 6 pm
Spark your wanderlust by discovering the enjoyment and benefits of getting out into nature on foot. This class is geared for beginners interested in just a short hike around town after work to multiple-day backpacking trips in the wilderness. Learn about the necessary preparations and equipment for a safe and enjoyable hike. Resources will be provided to make appropriate trip selections. Potential situations and hazards while on a hike will be discussed.
Chuck Wierman has played and worked in the outdoors all of his life, starting with hiking as a youngster in the Colorado Rockies . He obtained degrees in forestry from Purdue University and the University of Washington. Over the course of time, opportunities presented themselves for him to hike in Australia, Europe, North, Central and South America. He is on the board of directors of the local hiking club (Inter-Mountain Alpine Club (aka IMAC)), and enjoys sharing his knowledge and experience with others.
Will run