Filter by Category
Real Life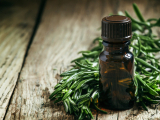 505F18 Essential Oils: Christmas Gifts - DATE CHANGE
with Vicki Kirby

Nov 28, 2018 at 6 pm
You will briefly learn what essential oils are, where they come from, safety, and where and how they are commonly used. Then dive into making one-of-a-kind essential oil Christmas gifts for the people you love this holiday season. You will make and take home Candy Cane Sugar Scrub, a Custom Scented Bath Salts Ornament, and a Christmas Body Lotion.
Will run
509F18 Being Or Choosing An Executor
with Loren Eddy

Nov 14, 2018 at 7 pm
Gain information on estate planning, the probate process, and the expectations of executors and the scope of their duties. Leave with sufficient understanding to choose an executor and to communicate with a probate attorney if you are appointed an executor. Choose from two dates offered. Previous attendance at Myths & Truths about Estate Planning is highly recommended.
Loren Eddy is an attorney in Kennewick and has over 30 years of experience in helping clients with their estate planning choices.
Will run
513F18 Retire On Track
with Amber Young

Nov 27, 2018 at 6 pm
Start planning for your retirement and know you'll have the savings to enjoy it. This interactive course simulates life in retirement and will give you a deeper understanding of different aspects and realities of retirement. Discover how much you need to save and what to plan for so you have the retirement lifestyle you want and can afford.
Amber Young is a Tri Cities native who graduated from Hanford High School in 2014 and is passionate about her community. She recently graduated from George Fox University with a Bachelor of Arts degree in marketing with a minor in management. Currently, she works at Gesa Credit Union as the Adult Education and Outreach Specialist in the Marketing Department.
Will run