Filter by Category
Get Up & Move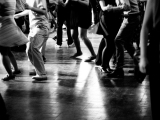 403F22 Contra Dancing
with Three Rivers Folklife Contra Dance

Oct 15, 2022 at 10 am
Contra is a communal-style folk dance that requires no partner or experience. A caller leads the dancers through a series of moves and the sequence repeats itself. There's no real footwork - it's more like walking to music. Come learn the basic steps that make contra dance easy to learn and fun to do! Each workshop can stand alone or attend each and hone your skill.
The Three Rivers Folklife Society (3RFS) was organized in 1988. It is a non-profit 501(c)(3) organization dedicated to promoting folk music in the Tri-Cities (Richland, Kennewick, and Pasco) in the southeastern corner of Washington state.
401F22 Beginning Yoga
with Michelle Sweeney

Oct 27, 2022 at 6 pm

, runs for 6 weeks
Beginning yoga will introduce the foundational poses of yoga with instruction on safe physical alignment. Breath will be linked to movement and progress at a relaxed pace. Participants will be exposed to the use of props and modifications to meet their individual needs.

No class will be held on Thanksgiving, Nov. 24th. 
Supply List: 
 Yoga Mat
Comfortable clothes for exercising in
2 Yoga Blocks
Water Bottle
Michelle Sweeney is a registered yoga teacher (RYT200) and has have over 20 years of yoga experience.  She also teaches with the Kennewick School District.  Her combined experience will bring to the class an awareness of the needs of the individual.
Full Course