Filter by Category
Express Yourself
302F22 Creative Writing: Horror
with TJ Tranchell

Oct 15, 2022 at 10 am
Like other media, writing often focuses on the visuals that can be seen to describe the world. For a full experience, however, a writer must learn to harness all the senses available to us. What scents remind us of childhood? What does food in the future taste like? What does the skin of another person feel like? And for horror, what was that sound? While this class will primarily use horror texts as examples, writers of any genre will find value in this class. Students should bring their preferred writing tools. Ages 18+.
TJ Tranchell was born on Halloween and teaches literature at Columbia Basin College. He has published four books including Cry Down Dark which was named the scariest book set in Utah by the New York Times.
Will run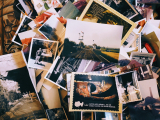 303F22 Archiving & Preserving Media
with Robert Franklin

Dec 8, 2022 at 6 pm
A how-to geared to a public audience on how to best preserve family/personal photographs, print and digital media on a budget. Discussion on best archival supplies for long-term preservation and best digitization equipment, file formats and storage media.      
Robert Franklin is professior with WSU Tri-Cities and the also co-author and editor of Nowhere to Remember: Hanford, White Bluffs, and Richland, part of the Hanford Histories series by WSU Press.
Full Course